Rachel Haskell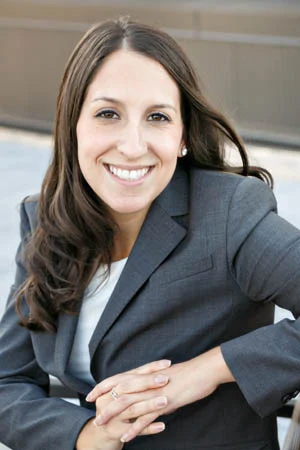 Contactar Rachel
Srta. Haskell representa a empleados y empleadores en asuntos de empleo, incluyendo indemnización por despedida, negociaciones pre-juicio; casos individuales, acciones judiciales colectivas, litigación en colectivo sobre horas extras, saldo mínimo, saldo regular y comisiones; discriminación, y reclamos de represalia. Srta. Haskell también representa a negocios (pequeños y grandes) en asuntos de litigación defensiva y consultación a empleadores para evitar litigación y cumplir de forma correcto con las leyes de empleo.
Srta. Haskell previamente trabajaba con Sr. Davis, donde ella adquieró experiencia diversa en asuntos de empleo, incluyendo tomar mando como segunda abogada en mediación de una acción judicial colectiva ("class action"), que resultó en un acuerdo de $3.75 millones, por razones de horas extras debido a miles de empleados en un centro de llamadas. Srta. Haskell también actuó como primera abogada en una sesión de mediación en el asunto de Jacobs et al. v. Major Energy Services LLC/Respond Power et al., una acción judicial colectiva, a nivel nacional, de parte de representantes de mercadeo.
Mientras estudiaba en la Faculdad de Leyes, ella trabajó como secretaria jurídica para el Fiscal de los Estados Unidos, División Criminal, en el Distrito de Massachusetts, y por la Unidad Legal Comisaria de Oportunidad de Empleo ("EEOC").
Srta. Haskell tiene un Bachillerato en Humanidades de la University of Wisconsin-Madison, donde ella obtuvo el cuadro de honor. Ella obtuvo su Doctorado en Derecho de Northeastern University School of Law. Srta. Haskell está admitida en el Colegio de Abogados de Nueva York y Massachusetts.
Meet Your Team
Our team believes in bold action and the extra mile when it matters most.
That's why we're still in your corner. Meet the Team