Rachel Haskell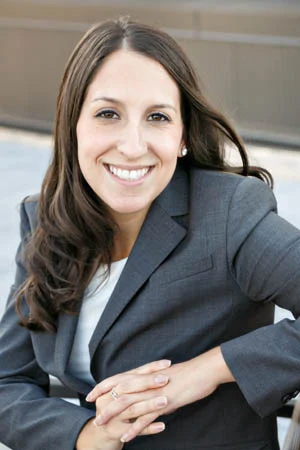 FEARLESS REPRESENTATION. FOCUSED ON YOUR SUCCESS. DEDICATED TO YOUR SUCCESS. MEET RACHEL. CLIENT-FOCUSED AND RESULTS DRIVEN NJ AND NY EMPLOYMENT ATTORNEY.
Ms. Rachel Haskell, a partner at the Working Solutions Law Firm, represents employees and employers in all employment-related matters, including severance and pre-suit settlement negotiations; individual, class and collective action litigations for overtime pay, minimum wages, regular wages and commissions; and employment discrimination and retaliation claims. Ms. Haskell also represents small to medium sized businesses in litigation defense.  She advises such employers on litigation avoidance and compliance with employment laws.
Rachel Haskell was previously employed in Mr. Davis' practice at a predecessor firm where she gained valuable experience on a wide range of employment matters, including sitting second chair at a class action mediation that resulted in a $3.75 million dollar settlement for overtime pay owed to thousands of call center employees.  Ms. Haskell also first chaired a mediation session in the matter of Jacobs et al. v. Major Energy Services LLC/Respond Power et al., a nationwide class action filed on behalf of a class of marketing representatives. Previously, she also worked at Conover Law Office as a contract attorney and at Cooper, Spir & Cohen as a Law Clerk.
During law school, she worked as a law clerk for the Criminal Division of the United States Attorney's Office in the District of Massachusetts, and for the Equal Employment Opportunity Commission's Legal Unit. At the Equal Employment Opportunity Commission, she conducted legal research and writing on employment discrimination and federal practice issues, similar to the cases that the Working Solutions Law Firm handles today. She also drafted discovery demands, requests, admissions, and deficiency letters. Finally, she prepared outlines for and attended depositions.
Ms. Haskell is admitted to the New York and Massachusetts state bars.
"Professional, knowledgeable, and supportive
5.0 stars
When Rachel took on my case, she truly became an advocate for my cause. She not only made sure that I felt heard and supported every step of the way, but made sure that I felt empowered and understood all elements and angles of my case. She ultimately was able to bring the case to a conclusion that has given me true peace of mind and created the space for me to be able to tell my side of the story. I could not recommend her enough."

Stephanie, former client of Rachel Haskell on Avvo
"I'd highly recommend her to anyone who wants results and the best representation."

Former Client of Rachel Haskell
Representative Matters:
Co-counsel on Park v. FDM
Drafted and argued successfully FLSA collective class certification motion that was granted by the Federal District Court
Co-lead-counsel on 400 person class action
Drafted brief seeking to invalidate class action waivers and motion granted by Federal District Court
Meet Your Team
Our team believes in bold action and the extra mile when it matters most.
That's why we're still in your corner. Meet the Team